Bug spray…check. Camping chairs…check. Inverter for your CPAP…huh?
When you rely on CPAP therapy to help you sleep and feel better in the day, going away from home and a reliable power source for your machine can be worrisome. Fortunately, technology and CPAP machines have advanced significantly over the years.
Below is useful information to feel confident your therapy will not be compromised while travelling:
1) Do I need an inverter for my CPAP while camping?
When you are camping in a trailer that does not have power hookup, you have two options for running your CPAP:
Run a generator all night (no inverter needed, just plug in).
Use an inverter. This will direct the power from the camper batteries to a stable current to then power the CPAP machine. When a trailer is not plugged in or operating on a generator, you cannot use any of the regular power outlets, which is where the inverter comes into play.
Inverters can be used for all CPAP machines regular size or travel. If you have a battery pack, you may need an inverter to charge the battery when it is low, but you won't need it to run the CPAP off the battery itself.
When using a battery, it is not recommended to use a humidifier. Reason being is humidifiers draw too much power and you probably will not get enough power for a full night. Generally, a battery pack run time is around 12-14 hours depending on pressure requirements.
2) Choose the correct inverter for your CPAP machine (if required)
If you use a CPAP machine that does require an inverter, then you most likely should use a "Pure Sine Wave Inverter" to avoid damaging the unit. It is always a good idea to check the recommendations of the manufacturer to confirm the type of inverter.
3) How long will my CPAP battery last?
Different factors determine the length of time the CPAP machine will run on battery power. The performance can vary based on the type of machine, using a heated humidifier, altitude, and pressure settings.
In general, when lithium-ion batteries are fully charged, they can power a CPAP machine for up to two nights. Before heading out, it is recommended that you test out the battery based on your settings to ensure you have a more accurate idea of how long the power will last.
4) Consider a travel or mini CPAP machine.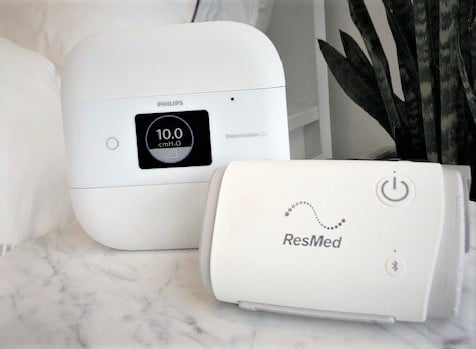 ResMed Air Mini
The smallest on the market.
A neat feature about this machine is that it has a waterless humidifier, so this keeps the size of equipment to a minimal. No need to attach a water chamber. This is ideal for summer or climates that don't require a high humidity setting.
Although the ResMed Air Mini does not come with its own battery pack, you can purchase the recommended Medistrom battery pack to serve as a power source when you are off the grid or want to ensure you have a back-up plan. This Medistrom battery pack is also super handy because you can use it to power other devices, such as a cell phone.
Intuitive app provides performance monitoring; however, the information does not link to our clinic to enable pressure adjustments remotely.
One potential draw back of the ResMed Air Mini is that the machine is only compatible with a ResMed mask. However, ResMed has some incredible mask options and it's a good idea to have a secondary mask. If you are not familiar with them, talk to your clinician about what their recommendation would be for you based on your unique needs and fit requirements.
Dreamstation Go
Philips Respironics developed this travel version of their hugely popular DreamStation.
It is not quite as small as the ResMed Mini, although it has a clean design and still has a much smaller imprint than a regular CPAP machine.
There is an option for an actual water chamber humidifier that connects to the machine.
Bluetooth technology links to clinical monitoring so adjustments can be made remotely.
One criticism that has been identified is that you cannot use the humidifier at the same time with the battery pack. It displays an error message when all three components are connected.
Please note that the DreamStation Go does not have a heated tube option available.
Can a travel CPAP machine be used as your regular machine?
You can, in fact…some of our patients do opt for using a travel mini CPAP for their everyday therapy. However, please keep in mind:
Whereas an everyday CPAP machine does not make any noise (and if it does, get it checked out!), a travel size CPAP emits a little bit of sound.
The ResMed Air mini has a waterless humidifier, not a water chamber. Long-term this may not be ideal for your therapy, especially in winter or dryer climates.
You could wear out your machine faster. Because of the size, the components will need to work harder than a regular CPAP machine.
Does my insurance cover a travel CPAP machine?
All insurance policies are unique, please review your own plan to determine what is covered. Many policies cover one new CPAP every 5 years, regardless if you decide to go with a travel or regular size CPAP machine. So, in this case if you feel like your regular CPAP still is working great and has a lot of life left to it, consider using your benefits to purchase a travel CPAP. Its also good to determine if your insurance covers both a regular and travel CPAP, as some policies do.
5) What kind of support can I receive when I'm away from home?
When you purchase a CPAP machine through Aveiro Sleep, we can adjust your pressures anywhere within cellular range*. Our clinicians are experts in troubleshooting and helping you get the support you need.
CPAP therapy shouldn't stop you from travelling and enjoying time away from home. With a little planning, you can feel confident that you will get a good nights' rest…wherever that may be!
Aveiro Sleep provides Home Sleep Apnea Testing, CPAP therapy and support services catered to obstructive sleep apnea. Our local clinics allow us to test, treat, and support thousands of Albertans close to their homes.
Call now to speak to a Patient Success Coordinator 1-855-852-2989 or contact us through our online form. 
*Remote adjustments anywhere within cellular range, with the exception of the ResMed Mini.